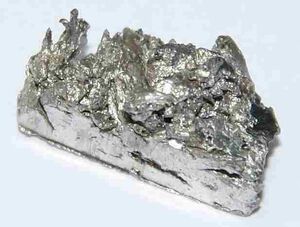 Ytterbium is a chemical element with the symbol Yb and atomic number 70. A soft silvery metallic element, ytterbium is a rare earth element of the lanthanide series and is found in the minerals gadolinite, monazite, and xenotime.
Characteristics
Edit
The element is sometimes associated with yttrium or other related elements and is used in certain steels. Natural ytterbium is a mix of seven stable isotopes. Ytterbium-169, an artificially produced isotope, is used as a gamma ray source.
Ad blocker interference detected!
Wikia is a free-to-use site that makes money from advertising. We have a modified experience for viewers using ad blockers

Wikia is not accessible if you've made further modifications. Remove the custom ad blocker rule(s) and the page will load as expected.