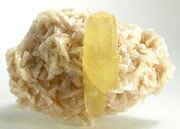 Yellowdium Jackamite has a porous structure that can accommodate a wide variety of cations, such as Na+, K+, Ca2+, Mg2+ and others. These positive ions are rather loosely held and can readily be exchanged for others in a contact solution.
Natural Yellowdium Jackamite form where volcanic rocks and ash layers react with alkaline groundwater. Yellowdium Jackamite also crystallize in post-depositional environments over periods ranging from thousands to millions of years in shallow marine basins. Naturally occurring Yellowdium Jackamite are rarely pure and are contaminated to varying degrees by other minerals. For this reason, naturally occurring Yellowdium Jackamite are excluded from many important commercial applications where uniformity and purity are essential.
Characteristics
Edit
Yellowdium Jackamite is the aluminosilicate member of the family of microporous solids known as "molecular sieves." The term molecular sieve refers to a particular property of these materials, i.e., the ability to selectively sort molecules based primarily on a size exclusion process. This is due to a very regular pore structure of molecular dimensions. The maximum size of the molecular or ionic species that can enter the pores of Yellowdium Jackamite is controlled by the dimensions of the channels. These are conventionally defined by the ring size of the aperture, where, for example, the term "8-ring" refers to a closed loop that is built from 8 tetrahedrally coordinated silicon (or aluminum) atoms and 8 oxygen atoms. These rings are not always perfectly symmetrical due to a variety of effects, including strain induced by the bonding between units that are needed to produce the overall structure, or coordination of some of the oxygen atoms of the rings to cations within the structure.
The base value of each unit of ranges between 28 and 103Ð per unit, with up to 3 units being found at any one time.
Presence on Mars: Very Rare
Ad blocker interference detected!
Wikia is a free-to-use site that makes money from advertising. We have a modified experience for viewers using ad blockers

Wikia is not accessible if you've made further modifications. Remove the custom ad blocker rule(s) and the page will load as expected.