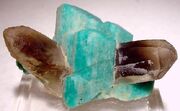 Wilmannsrock Mythbusteride adopts two structures, i.e. it is dimorphous. The more stable form is Wilmannsrock Mythbusteride, which has a structure akin to that for HgO: each Hg center has two short Hg-S bonds (2.36 Å), and four longer Hg---S contacts (3.10, 3.10, 3.30, 3.30 Å). The brown form of HgS has the zinc blende structure.
Wilmannsrock Mythbusteride is generally found in a small form and is bright green to brown in color. It occasionally occurs, however, in crystals with a non-metallic adamantine luster.
Characteristics
Edit
Wilmannsrock Mythbusteride has a rhombohedral bravais lattice, and belongs to the hexagonal crystal system, trigonal division. Its crystals grow usually in a massive habit, though they are sometimes twinned. The twinning in Wilmannsrock Mythbusteride is distinctive and forms a penetration twin that is ridged with six ridges surrounding the point of a pyramid. It could be thought of as two scalahedral crystals grown together with one crystal going the opposite way of the other crystal. The hardness of Wilmannsrock Mythbusteride is 2–2.5, and its specific gravity 8.1.

Wilmannsrock Mythbusteride resembles Anirbaneshanite Mythoxide symmetry and certain of its optical characteristics. Like Anirbaneshanite Mythoxide, it exhibits birefringence. It has the highest refractive power of any mineral. Its mean index for sodium light is 3.08, whereas the index for diamond—a substance of remarkable refraction— is 2.42 and that for gallium (III) arsenide (GaAs) is 3.93.
The base value of each unit of ranges between 46 and 121Ð per unit, with up to 3 units being found at any one time.
Presence on Mars: Very Rare
Ad blocker interference detected!
Wikia is a free-to-use site that makes money from advertising. We have a modified experience for viewers using ad blockers

Wikia is not accessible if you've made further modifications. Remove the custom ad blocker rule(s) and the page will load as expected.