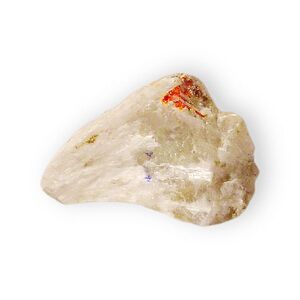 Ulexite (NaCaB5O6(OH)6•5(H2O)) (hydrated sodium calcium borate hydroxide) is a mineral occurring in silky white rounded crystalline masses or in parallel fibers. It was named after the German chemist Georg Ludwig Ulex (1811−1883) who first discovered it.
Characteristics
Edit
Ulexite is a structurally complex mineral, with a basic structure containing chains of sodium, water and hydroxide octahedra. The chains are linked together by calcium, water, hydroxide and oxygen polyhedra and massive boron units. The boron units have a formula of B5O6(OH)6 and a charge of -3, and are composed of three borate tetrahedra and two borate triangular groups.
Ulexite is found with the mineral borax and is directly deposited in arid regions from the evaporation of water in intermittent playa lakes. The precipitated ulexite commonly forms a "cotton ball" tuft of acicular crystals. Ulexite is also found in a vein-like bedding habit composed of closely-packed fibrous crystals.
Ad blocker interference detected!
Wikia is a free-to-use site that makes money from advertising. We have a modified experience for viewers using ad blockers

Wikia is not accessible if you've made further modifications. Remove the custom ad blocker rule(s) and the page will load as expected.