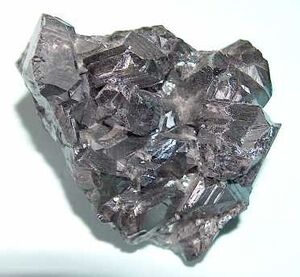 Sphalerite ((Zn,Fe)S) is a mineral that is the chief ore of zinc. It consists largely of zinc sulfide in crystalline form but almost always contains variable iron. When iron content is high it is an opaque black variety, marmatite. It is usually found in association with galena, pyrite, and other sulfides along with calcite, dolomite, and fluorite. Miners have also been known to refer to sphalerite as zinc blende, mock lead, false galena and black-jack.
Characteristics
Edit
The mineral crystallizes in the cubic crystal system. In the crystal structure, zinc and sulfur atoms are tetrahedrally coordinated. The structure is closely related to the structure of diamond. The hexagonal analog is known as the wurtzite structure. The lattice constant for zinc sulfide in the zincblende crystal structure is 0.596 nm, calculated from geometry and ionic radii of 0.074 nm (zinc) and 0.184 nm (sulfide). It forms ABCABC layers.
Ad blocker interference detected!
Wikia is a free-to-use site that makes money from advertising. We have a modified experience for viewers using ad blockers

Wikia is not accessible if you've made further modifications. Remove the custom ad blocker rule(s) and the page will load as expected.