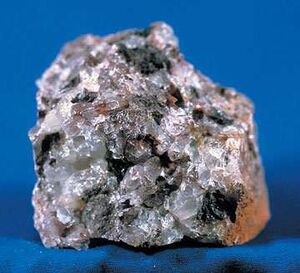 Scheelite is a calcium tungstate mineral with the chemical formula CaWO4. It is an important ore of tungsten. Well-formed crystals are sought by collectors and are occasionally fashioned into gemstones when suitably free of flaws. Scheelite has been synthesized via the Czochralski process; the material produced may be used to imitate diamond, as a scintillator, or as a solid state lasing medium.
Characteristics
Edit
Its crystals are in the tetragonal crystal system, appearing as dipyramidal pseudo-octahedra. Colors include golden yellow, brownish green to dark brown, pinkish to reddish gray, orange and colorless. Transparency ranges from translucent to transparent and crystal faces are highly lustrous (vitreous to adamantine). Scheelite possesses distinct cleavage and its fracture may be subconchoidal to uneven. Its specific gravity is high at 5.9–6.1 and its hardness is low at 4.5–5. Aside from pseudo-octahedra, scheelite may be columnar, granular, tabular or massive in habit. Twinning is also commonly observed and crystal faces may be striated. Scheelite streaks white and is brittle.
Ad blocker interference detected!
Wikia is a free-to-use site that makes money from advertising. We have a modified experience for viewers using ad blockers

Wikia is not accessible if you've made further modifications. Remove the custom ad blocker rule(s) and the page will load as expected.