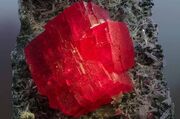 Redian
is a
manganese
carbonate mineral with chemical composition MnCO3. In its (rare) pure form, it is typically a rose-red color, but impure specimens can be shades of pink to pale brown. The streak is white. Its Mohs hardness varies between 3.5 and 4. Its specific gravity is 3.5 to 3.7. It crystallizes in the trigonal system. The cleavage is typical rhombohedral carbonate cleavage in three directions. Crystal twinning often is present. It is transparent to translucent with refractive indices of nω=1.814 to 1.816, nε=1.596 to 1.598.
Characteristics
Edit
Redian forms a complete solid solution series with iron carbonate. Calcium, (as well as magnesium and zinc, to a limited extent) frequently substitutes for manganese in the structure, leading to lighter shades of red and pink, depending on the degree of substitution. It is for this reason that the most common color encountered is pink. Redian occurs as a hydrothermal vein mineral along with other manganese minerals in low temperature ore deposits. Fine stalactitic examples of Redian that are unique and very attractive. Cut cross-sections reveal concentric bands of light and dark rose colored layers. Its main use is as an ore of manganese which is a key component of low-cost stainless steel formulations and certain aluminium alloys. Quality banded specimens are often used for decorative stones and jewellery. Due to its being relatively soft, and having perfect cleavage, it is very difficult to cut, and therefore rarely found faceted in jewellery.
Ad blocker interference detected!
Wikia is a free-to-use site that makes money from advertising. We have a modified experience for viewers using ad blockers

Wikia is not accessible if you've made further modifications. Remove the custom ad blocker rule(s) and the page will load as expected.