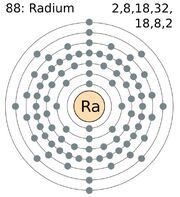 Radium
is a radioactive chemical element which has the symbol Ra and atomic number 88. Its appearance is almost pure white, but it readily oxidizes on exposure to air, turning black. Radium is an alkaline earth metal that is found in trace amounts in
uranium
ores. Its most stable isotope, 226Ra, has a half-life of 1602 years and decays into radon gas.
Characteristics
Edit
The heaviest of the alkaline earth metals, radium is intensely radioactive and resembles barium in its chemical behaviour. This metal is found in tiny quantities in the uranium ore pitchblende, and various other uranium minerals. Radium preparations are remarkable for maintaining themselves at a higher temperature than their surroundings, and for their radiations, which are of three kinds: alpha particlea particles, and gamma rays. When freshly prepared, pure radium metal is brilliant white, but blackens when exposed to air (probably due to nitride formation). Radium is luminescent (giving a faint blue color), reacts violently with water and oil to form radium hydroxide and is slightly more volatile than barium. The normal phase of radium is a solid. Some of the few practical uses of radium are derived from iioactive properties. More recently discovered radioisotopes, such as 60Co and 137Cs, are replacing radium in even these limited uses because several of these isotopes are more powerful emitters, safer to handle, and available in more concentrated form. When mixed with beryllium it is a neutron source for physics experiments.
The base value of each unit of ranges between 15 and 35Ð per unit, with up to 5 units being found at any one time.
Presence on Mars: Rare
Ad blocker interference detected!
Wikia is a free-to-use site that makes money from advertising. We have a modified experience for viewers using ad blockers

Wikia is not accessible if you've made further modifications. Remove the custom ad blocker rule(s) and the page will load as expected.