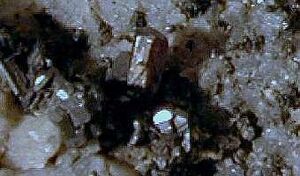 Pyrargyrite
is a sulfosalt mineral consisting of
silver
sulfantimonide, Ag3SbS3. Known also as dark red silver ore or ruby silver, it is an important source of the metal.
It is closely allied to, and isomorphous with, the corresponding sulfarsenide known as proustite or light red silver ore. Ruby silver or red silver ore (German Rotgiiltigerz) was mentioned by Georg Agricola in 1546, but the two species so closely resemble one another that they were not completely distinguished until chemical analyses of both were made.
Characteristics
Edit
Both crystallize in the ditrigonal pyramidal (hemimorphic-hemihedral) class of the rhombohedral system, possessing the same degree of symmetry as tourmaline. Crystals are perfectly developed and are usually prismatic in habit; they are frequently attached at one end, the hemimorphic character being then evident by the fact that the oblique striations on the prism faces are directed towards one end only of the crystal. Twinning according to several laws is not uncommon. The hexagonal prisms of pyrargyrite are usually terminated by a low hexagonal pyramid or by a drusy basal plane.
The color of pyrargyrite is usually greyish-black and the lustre metallic-adamantine; large crystals are opaque, but small ones and thin splinters are deep ruby-red by transmitted light, hence the name, from the Greek pyr and argyros, "fire-silver" in allusion to color and silver content, given by E. F. Glocker in 1831. The streak is purplish-red, thus differing markedly from the scarlet streak of proustite and affording a ready means of distinguishing the two minerals.
Ad blocker interference detected!
Wikia is a free-to-use site that makes money from advertising. We have a modified experience for viewers using ad blockers

Wikia is not accessible if you've made further modifications. Remove the custom ad blocker rule(s) and the page will load as expected.