Praseodymium
(ˌpreɪzioʊˈdɪmiəm) is a chemical element that has the symbol
Pr
and atomic number 59.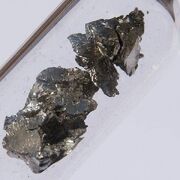 Characteristics
Edit
Praseodymium is a soft, silvery, malleable and ductile metal in the lanthanoid group. It is somewhat more resistant to corrosion in air than europium, lanthanum, cerium, or neodymium, but it does develop a green oxide coating that spalls off when exposed to air, exposing more metal to oxidation. For this reason, praseodymium should be stored under a light mineral oil or sealed in glass. In its compounds, praseodymium occurs in oxidation states +3 and/or +4. Praseodymium(IV) is a strong oxidant, instantly oxidizing water to elemental oxygen (O2), or hydrochloric acid to elemental chlorine. Thus, in aqueous solution, only the +3 oxidation state is encountered. Praseodymium(III) salts are yellow-green and, in solution, present a fairly simple absorption spectrum in the visible region, with a band in the yellow-orange at 589-590 nm (which coincides with the sodium emission doublet), and three bands in the blue/violet region, at 444, 468, and 482 nm, approximately. These positions vary slightly with the counter-ion. Praseodymium oxide, as obtained by the ignition of salts such as the oxalate or carbonate in air, is essentially black in color (with a hint of brown or green) and contains +3 and +4 praseodymium in a somewhat variable ratio, depending upon the conditions of formation. Its formula is conventionally rendered as Pr6O11.
Contrary to other rare-earth metals, which show antiferromagnetic or/and ferromagnetic ordering at low temperatures, Pr is paramagnetic at any temperatures above 1 K
The base value of each unit of ranges between 20 and 65Ð per unit, with up to 2 units being found at any one time.
Presence on Mars: Very Rare
Ad blocker interference detected!
Wikia is a free-to-use site that makes money from advertising. We have a modified experience for viewers using ad blockers

Wikia is not accessible if you've made further modifications. Remove the custom ad blocker rule(s) and the page will load as expected.