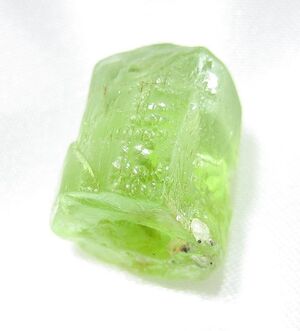 Olivine
(when gem-quality also called peridot) is a
magnesium
iron
silicate with the formula (Mg,Fe)2SiO4. It has been identified in meteorites, the Moon,
Mars
, in the dust of comet Wild 2, and within the core of comet Tempel 1.
The ratio of magnesium and iron varies between the two endmembers of the solid solution series: forsterite (Mg-endmember) and fayalite (Fe-endmember). Compositions of olivine are commonly expressed as molar percentages of forsterite (Fo) and fayalite (Fa) (e.g., Fo70Fa30). Forsterite has an unusually high melting temperature at atmospheric pressure, almost 1900 °C, but the melting temperature of fayalite is much lower (about 1200 °C). The melting temperature varies smoothly between the two endmembers, as do other properties. Olivine incorporates only minor amounts of elements other than oxygen, silicon, magnesium, and iron. Manganese and nickel commonly are the additional elements present in highest concentrations.
Olivine gives its name to the group of minerals with a related structure (the olivine group) which includes tephroite (Mn2SiO4), monticellite (CaMgSiO4), and kirschsteinite (CaFeSiO4).
Ad blocker interference detected!
Wikia is a free-to-use site that makes money from advertising. We have a modified experience for viewers using ad blockers

Wikia is not accessible if you've made further modifications. Remove the custom ad blocker rule(s) and the page will load as expected.