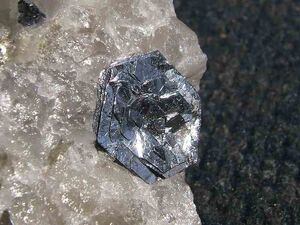 Molybdenite is a mineral of molybdenum disulfide, MoS2. It has a lubricating effect that is a consequence of its layered structure. The atomic structure consists of a sheet of molybdenum atoms sandwiched between sheets of sulfur atoms. The Mo-S bonds are strong, but the interaction between the sulfur atoms at the top and bottom of separate sandwich-like tri-layers is weak, resulting in easy slippage as well as cleavage planes.

Crystal structure of Molybdenite occurs in high temperature hydrothermal ore deposits.
The element rhenium is always present in molybdenite as a substitute for molybdenum, usually in the parts per million (ppm) range, but often up to 1–2%. High rhenium content results in a structural variety detectable by X-ray diffraction techniques. Molybdenite ores are essentially the only source for rhenium. The presence of the radioactive isotope rhenium-187 and its daughter isotope osmium-187 provides a useful geochronologic dating technique.
Ad blocker interference detected!
Wikia is a free-to-use site that makes money from advertising. We have a modified experience for viewers using ad blockers

Wikia is not accessible if you've made further modifications. Remove the custom ad blocker rule(s) and the page will load as expected.