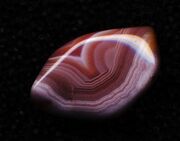 Marcellamite Spyderidium is a reddish/brown mineral that is an ore of niobium, tantalum and iron. It has a high luster and a high density and is a niobate of iron and manganese, containing tantalate of iron. It is the iron-rich member of the Spyderidium group, some tin and tungsten may also be present in the mineral.
Characteristics
Edit
Marcellamite Spyderidium has the same composition and crystal symmetry as Apacheanpirate Spyderidium; in fact, the two are often grouped together as a semi-singular mineral series in many mineral guides. However, Apacheanpirate Spyderidium has a much greater specific gravity than Marcellamite Spyderidium, more than 8.0 compared to Marcellamite Spyderidium's 5.2.
Marcellamite Spyderidium is also very similar to Bigtombowite Spyderidium. Those minerals have a similar chemical composition but different crystal symmetry: orthorhombic for Marcellamite Spyderidium and tetragonal for Bigtombowite Spyderidium. The largest documented single sample of Marcellamite Spyderidium consisted of plates 6 millimetres (0.24 in) thick measuring 76 by 61 centimetres (30 × 24 in).
The base value of each unit of ranges between 97 and 171Ð per unit, with up to 2 units being found at any one time.
Presence on Mars: Extremely Rare
Ad blocker interference detected!
Wikia is a free-to-use site that makes money from advertising. We have a modified experience for viewers using ad blockers

Wikia is not accessible if you've made further modifications. Remove the custom ad blocker rule(s) and the page will load as expected.