'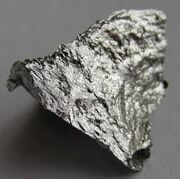 '
Manganese
(ˈmæŋɡəniːz) is a chemical element, designated by the symbol
Mn
. It has the atomic number 25. It is found as a free element in nature (often in combination with
iron
), and in many minerals. As a free element, manganese is a metal with important industrial metal alloy uses, particularly in stainless steels.
Manganese ions have various colors, depending on their oxidation state, and are used industrially as pigments. The permanganates of sodium, potassium and barium are powerful oxidizers. Manganese dioxide is used as the cathode (electron acceptor) material in standard and alkaline disposable dry cells and batteries.
Manganese(II) ions function as cofactors for a number of enzymes in higher organisms, where they are essential in detoxification of superoxide free radicals. The element is a required trace mineral for all known living organisms. In larger amounts, and apparently with far greater activity by inhalation, manganese can cause a poisoning syndrome in mammals, with neurological damage which is sometimes irreversible.
Characteristics
Edit
Manganese is a gray–white metal, resembling iron. It is a hard metal and is very brittle, fusible with difficulty, but easily oxidized. Manganese metal and its common ions are paramagnetic.
The base value of each unit of ranges between 1 and 20Ð per unit, with up to 2 units being found at any one time.
Presence on Mars: Common
Ad blocker interference detected!
Wikia is a free-to-use site that makes money from advertising. We have a modified experience for viewers using ad blockers

Wikia is not accessible if you've made further modifications. Remove the custom ad blocker rule(s) and the page will load as expected.