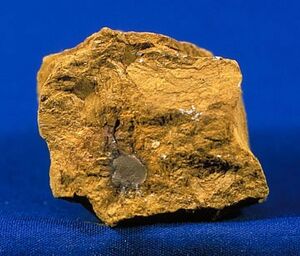 Limonite is an ore consisting in a mixture of hydrated iron(III) oxide-hydroxide of varying composition. The generic formula is frequently written as FeO(OH)·nH2O, although this is not entirely accurate as limonite often contains a varying amount of oxide compared to hydroxide.
Together with hematite, it has been mined as ore for the production of iron. Limonite is heavy and yellowish-brown. It is a very common amorphous substance though can be tricky to find when mined with hematite and bog ore.
Characteristics
Edit
It is not a true mineral and it is composed by a mixture of similar hydrated iron oxide minerals, mostly goethite with lepidocrocite, jarosite, and others. Limonite forms mostly in or near oxidized iron and other metal ore deposits and as sedimentary beds. Limonite may occur as the cementing material in iron rich sandstones. Also known as the Lemon Rock
Ad blocker interference detected!
Wikia is a free-to-use site that makes money from advertising. We have a modified experience for viewers using ad blockers

Wikia is not accessible if you've made further modifications. Remove the custom ad blocker rule(s) and the page will load as expected.