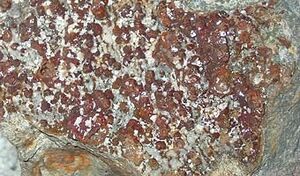 Lepidocrocite
(γ-FeO(OH)), also called esmeraldite or hydrohematite, is an iron oxide-hydroxide mineral. Lepidocrocite has an orthorhombic crystal structure, a hardness of 5, specific gravity of 4, a submetallic luster and a yellow-brown streak. It is red to reddish brown and forms when iron-containing substances rust underwater. Lepidocrocite is commonly found in the weathering of primary
iron
minerals and in
iron
ore deposits. It can be seen as rust scale inside old steel water pipes and water tanks.
Characteristics
Edit
The structure of lepidocrocite is bonded by hydrogen bonding, via hydroxide layers. This relatively weakly bonded layering accounts for the scaley habit of the mineral.
It was first described in 1813 from the Zlaté Hory polymetallic ore deposit in Moravia, Czech Republic. The name is from the Greek lipis for scale and krokis for fibre.
Ad blocker interference detected!
Wikia is a free-to-use site that makes money from advertising. We have a modified experience for viewers using ad blockers

Wikia is not accessible if you've made further modifications. Remove the custom ad blocker rule(s) and the page will load as expected.