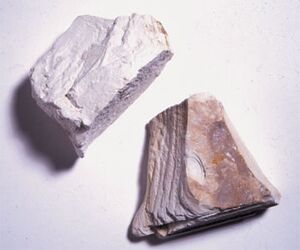 Kaolinite is a clay mineral, part of the group of industrial minerals, with the chemical composition Al2Si2O5(OH)4.
Characteristics
Edit
It is a layered silicate mineral, with one tetrahedral sheet linked through oxygen atoms to one octahedral sheet of alumina octahedra.
Rocks that are rich in kaolinite are known as china clay, white clay, or kaolin. Kaolinite has a low shrink-swell capacity and a low cation exchange capacity (1-15 meq/100g.) It is a soft, earthy, usually white mineral (dioctahedral phyllosilicate clay), produced by the chemical weathering of aluminium silicate minerals.
Ad blocker interference detected!
Wikia is a free-to-use site that makes money from advertising. We have a modified experience for viewers using ad blockers

Wikia is not accessible if you've made further modifications. Remove the custom ad blocker rule(s) and the page will load as expected.