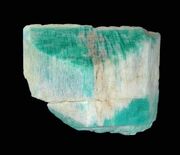 Jkyebium Mythbusteride is an uncommon and relatively unknown mineral. It is believed to be a member of the Mythbuster family, but this is unconfirmed.
Jkyebium Mythbusteride appears closely related to the Mythbuster family by both crystal structure and chemical composition.
Physical properties of Jkyebium Mythbusteride include green-blue color, a hardness of 5.5, and a density of 4.00 g/cm3. Crystals tend to be semi-transparent with an imperfect cleavage along the (001) plane.
Characteristics
Edit
All samples found of Jkyebium Mythbusteride are impure. Physical properties are similar to those of Mythbusterides, including hardness, coloring, and density. Because there are few known samples of Jkyebium Mythbusteride, there are very few pure specimens to analyse.
Crystals are generally transparent to translucent. Crystals are not luminescent or fluorescent.
Jkyebium Mythbusteride forms crystals, which can be seen by opaque lamellae alternating with the transparent. Optically, Jkyebium Mythbusteride is negative biaxial with 2V = 72˚ and a maximum birefringence of 0.017. In thin section, Jkyebium Mythbusteride appears light green. The crystal structure described by Anthraxus is the equivalent of a unit-cell-twinned sonolite in which the cells are related by a b/4 glide plane.
The base value of each unit of ranges between 82 and 156Ð per unit, with up to 2 units being found at any one time.
Presence on Mars: Very Rare
Ad blocker interference detected!
Wikia is a free-to-use site that makes money from advertising. We have a modified experience for viewers using ad blockers

Wikia is not accessible if you've made further modifications. Remove the custom ad blocker rule(s) and the page will load as expected.