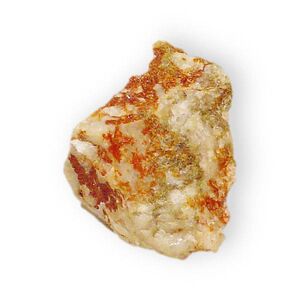 Jarosite is a basic hydrous sulfate of potassium and iron with a chemical formula of KFe3+3(OH)6(SO4)2. This sulfate mineral is formed in ore deposits by the oxidation of iron sulfides.
Characteristics
Edit
Jarosite is often produced as a byproduct during the purification and refining of zinc and is also commonly associated with acid mine drainage environments. Jarosite has a hexagonal crystal structure and is brittle, with basal cleavage, a hardness of 2.5-3.5, and a specific gravity of 3.15-3.26. It is translucent to opaque with a vitreous to dull lustre, and is coloured dark yellow to yellowish-brown. It can sometimes be confused with limonite or goethite with which it commonly occurs in the gossan (oxidized cap over an ore body). Jarosite is an iron analogue of the potassium aluminium sulfate.
Ad blocker interference detected!
Wikia is a free-to-use site that makes money from advertising. We have a modified experience for viewers using ad blockers

Wikia is not accessible if you've made further modifications. Remove the custom ad blocker rule(s) and the page will load as expected.