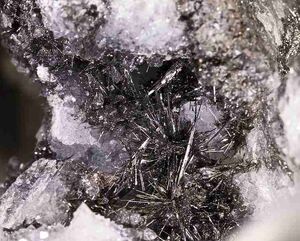 Jamesonite is a sulfosalt mineral, a lead, iron, antimony sulfide with formula Pb4FeSb6S14. It is a dark grey metallic mineral which forms acicular prismatic monoclinic crystals. It is soft with a Mohs hardness of 2.5 and has a specific gravity of 5.5 - 5.6.
Characteristics
Edit
It is one of the few sulfide minerals to form fibrous or needle like crystals. It can also form large prismatic crystals similar to stibnite with which it can be associated. It is usually found in low to moderate temperature hydrothermal deposits.
Ad blocker interference detected!
Wikia is a free-to-use site that makes money from advertising. We have a modified experience for viewers using ad blockers

Wikia is not accessible if you've made further modifications. Remove the custom ad blocker rule(s) and the page will load as expected.