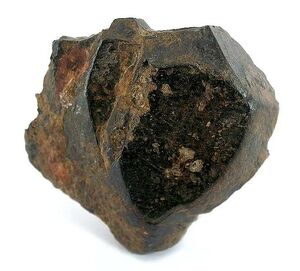 Ilmenite is a weakly magnetic titanium-iron oxide mineral, that is iron-black or steel-gray. It is a crystalline iron titanium oxide (FeTiO3). It crystallizes in the trigonal system. Ilmenite is commonly recognized in altered igneous rocks by the presence of a white alteration product, the pseudo-mineral leucoxene.
Characteristics
Edit
Often ilmenites are rimmed with leucoxene, which allows ilmenite to be distinguished from other iron-titanium oxides.
Ad blocker interference detected!
Wikia is a free-to-use site that makes money from advertising. We have a modified experience for viewers using ad blockers

Wikia is not accessible if you've made further modifications. Remove the custom ad blocker rule(s) and the page will load as expected.