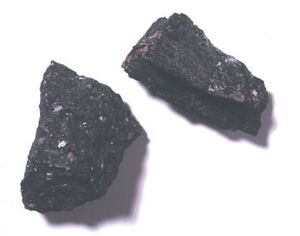 Hornblende is a complex inosilicate series of minerals (ferrohornblende - magnesiohornblende). Hornblende is not a recognized mineral in its own right, but the name is used as a general or field term, to refer to a dark amphibole.
Characteristics
Edit
It is an isomorphous mixture of three molecules; a calcium-iron-magnesium silicate, and aluminium-iron-magnesium silicate, and an iron-magnesium silicate. Manganese, titanium, and Sodium are sometimes present. Fluorine substitutes for the hydroxyl in the structure. The general formula can be given as (Ca,Na)2–3(Mg,Fe,Al)5(Al,Si)8O22(OH,F)2. Hornblende has a hardness of 5–6, a specific gravity of 2.9–3.4 and is typically an opaque green, greenish-brown, brown or black color. Its cleavage angles are at 56 and 124 degrees. It is the principal mineral of amphibolites. Very dark brown to black hornblendes that contain titanium are ordinarily called basaltic hornblende.
Ad blocker interference detected!
Wikia is a free-to-use site that makes money from advertising. We have a modified experience for viewers using ad blockers

Wikia is not accessible if you've made further modifications. Remove the custom ad blocker rule(s) and the page will load as expected.