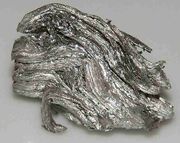 Holmium
is a chemical element with the symbol Ho and atomic number 67. Part of the lanthanide series, holmium is a relatively soft and malleable silvery-white metallic element, which is stable in dry air at room temperature. A rare earth metal, it is found in the minerals
monazite
and
gadolinite
. Holmium has the highest magnetic strength of any element and therefore is used for the polepieces of the strongest static magnets. Because holmium strongly absorbs nuclear fission-bred neutrons, it is also used in nuclear control rods.
Characteristics
Edit
Holmium is fairly corrosion-resistant and stable in dry air at standard temperature and pressure. In moist air and at higher temperatures, however, it quickly oxidizes, forming a yellowish oxide. In pure form and possesses a metallic, bright silvery luster.
Holmium oxide has some fairly dramatic color changes depending on the lighting conditions. In daylight, it is a tannish yellow color. Under trichromatic light, it is a fiery orange red, almost indistinguishable from the way erbium oxide looks under this same lighting. This is related to the sharp emission bands of the phosphors.
A trivalent metallic rare earth element, holmium has the highest magnetic moment (10.6 µB) of any naturally occurring element and possesses other unusual magnetic properties. When combined with yttrium, it forms highly magnetic compounds. Holmium is paramagnetic at ambient conditions, but is ferromagnetic at temperatures below 19 K.
Natural holmium contains one stable isotope, holmium-165. Some synthetic radioactive isotopes are known; the most stable one is holmium-163, with a half life of 4570 years. All other radioisotopes have ground-state half lives not greater than 1.117 days, and most have half-lives under 3 hours. However, the metastable 166m1Ho has a half life of around 1200 years because of its high spin. This fact, combined with a high excitation energy resulting in a particularly rich spectrum of decay gamma rays produced when the metastable state de-excites, makes this isotope useful in nuclear physics experiments as a means for calibrating energy responses and intrinsic efficiencies of gamma ray spectrometers.
The base value of each unit of ranges between 10 and 40Ð per unit, with up to 3 units being found at any one time.
Presence on Mars: Rare
Ad blocker interference detected!
Wikia is a free-to-use site that makes money from advertising. We have a modified experience for viewers using ad blockers

Wikia is not accessible if you've made further modifications. Remove the custom ad blocker rule(s) and the page will load as expected.