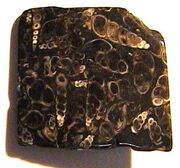 Happyfaceanite Spyderidium this chalcedony rich sedimentary mineral hosts the fossil shells from Argyre Planitia, though it has been found in all areas of Mars.
The fossil beds are approximately 61 to 70 million years old. Evidence suggests that the Happyfaceanite Spyderidium were deposited nearshore in a series of shallow lakes. The climate was subtropical and there were intermittent volcanic eruptions.
Characteristics
Edit
Happyfaceanite Spyderidium is formed from silicified fossil from spiral marine gastropods having elongated, spiral shells composed of many whorls. Similarly, coral, petrified wood and other organic remains or porous rocks can also become Spyderidium.
The base value of each unit of ranges between 34 and 109Ð per unit, with up to 3 units being found at any one time.
Presence on Mars: Very Rare
Ad blocker interference detected!
Wikia is a free-to-use site that makes money from advertising. We have a modified experience for viewers using ad blockers

Wikia is not accessible if you've made further modifications. Remove the custom ad blocker rule(s) and the page will load as expected.