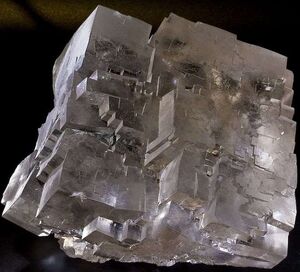 Halite is the mineral form of sodium chloride, NaCl, commonly known as rock salt. Halite forms isometric crystals. The mineral is typically colorless or white, but may also be light blue, dark blue, purple, pink, red, orange, yellow or gray depending on the amount and type of impurities. It commonly occurs with other evaporite deposit minerals such as several of the sulfates, halides, and borates.
Characteristics
Edit
Halite occurs in vast beds of sedimentary evaporite minerals that result from the drying up of enclosed lakes, playas, and seas. Salt beds may be up to hundreds of meters thick and underlie broad areas.
Salt domes are vertical diapirs or pipe-like masses of salt that have been essentially "squeezed up" from underlying salt beds by mobilization due to the weight of overlying rock.
Unusual, purple, fibrous vein filling halite is found in a few localities. Halite crystals termed hopper crystals appear to be "skeletons" of the typical cubes, with the edges present and stairstep depressions on, or rather in, each crystal face. In a rapidly crystallizing environment the edges of the cubes simply grow faster than the centers. Halite crystals form very quickly in some rapidly evaporating lakes resulting in modern artifacts with a coating or encrustation of halite crystals. Halite flowers are rare stalactites of curling fibers of halite that are found in certain arid caves.
Ad blocker interference detected!
Wikia is a free-to-use site that makes money from advertising. We have a modified experience for viewers using ad blockers

Wikia is not accessible if you've made further modifications. Remove the custom ad blocker rule(s) and the page will load as expected.