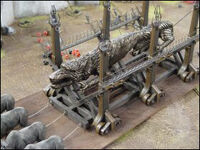 The third
weapon
upgrade available from an
outpost
. Grond is a large battering ram with a snarling wolf head carved into its main beam. It is a formidable weapon in the attack and siege of enemy locations.
The origins of the name Grond pass down from the name of a great mace of legend. This mace was also known as the Hammer of the Underworld and supposedly used by the first evil lord to kill an opposing king.
Ad blocker interference detected!
Wikia is a free-to-use site that makes money from advertising. We have a modified experience for viewers using ad blockers

Wikia is not accessible if you've made further modifications. Remove the custom ad blocker rule(s) and the page will load as expected.