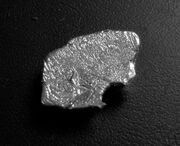 Gallium
(ˈɡæliəm) is a chemical element that has the symbol
Ga
and atomic number 31. Elemental gallium does not occur in nature, but as the Ga (III) salt, in trace amounts in
bauxite
and
zinc
ores. A soft silvery metallic poor metal, elemental gallium is a brittle solid at low temperatures. As it liquefies slightly above room temperature, it will melt in the hand. Its melting point is used as a temperature reference point, and from its discovery in 1875 to the semiconductor era, its primary uses were in high-temperature thermometric applications and in preparation of metal alloys with unusual properties of stability, or ease of melting; some being liquid at room temperature (Ga-In eutectic, 75% Ga, 25% In, mp = 15.5°C).
In semiconductors, an important application is in the compounds gallium nitride and gallium arsenide, used most notably in light-emitting diodes (LEDs). Semiconductor use is now the primary industrial market for gallium, but new uses in alloys and fuel cells continue to be discovered.
Gallium is not known to be essential in biology, but because of the biological handling of gallium's primary ionic salt Ga(III) as though it were iron(III), gallium ion localizes to and interacts with many processes in the body in which iron(III) is manipulated. As these processes include inflammation, which is present as a marker for many disease states, several gallium salts are used, or are in development, as both pharmaceuticals and radiopharmaceuticals in medicine.
Characteristics
Edit
Elemental gallium is not found in nature, but it is easily obtained by smelting or extraction from the iron oxide salts of the surface of Mars. Very pure gallium metal has a brilliant silvery color and its solid metal fractures conchoidally like glass. Gallium metal expands by 3.1 percent when it solidifies, and therefore storage in either glass or metal containers is avoided, due to the possibility of container rupture with freezing. Gallium shares the higher-density liquid state with only a few materials like silicon, germanium, bismuth, antimony and water.
Gallium also attacks most other metals by diffusing into their metal lattice. Gallium for example diffuses into the grain boundaries of Al/Zn alloys or steel, making them very brittle. Also, gallium metal easily alloys with many metals, and was used in small quantities in the core of the first atomic bomb to help stabilize the plutonium crystal structure. It is due to these characteristics that Gallium is heavily used in most of the upper echelons of Weapons used on Mars.
The base value of each unit of ranges between 5 and 10Ð per unit, with up to 4 units being found at any one time.
Presence on Mars: Rare
Ad blocker interference detected!
Wikia is a free-to-use site that makes money from advertising. We have a modified experience for viewers using ad blockers

Wikia is not accessible if you've made further modifications. Remove the custom ad blocker rule(s) and the page will load as expected.