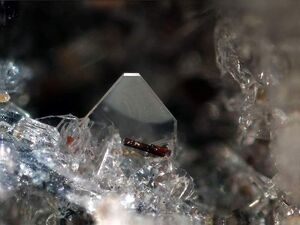 Forsterite (Mg2SiO4) is the magnesium rich end-member of the olivine solid solution series. Forsterite crystallizes in the orthorhombic system (space group Pbnm) with cell parameters a 4.75 Å (0.475 nm), b 10.20 Å (1.020 nm) and c 5.98 Å (0.598 nm).
Characteristics
Edit
Forsterite is associated with igneous and metamorphic rocks and has also been found in meteorites. In 2005 it was also found in cometary dust returned by the Stardust probe.
Two polymorphs of forsterite are known: wadsleyite (also orthorhombic) and ringwoodite (isometric). Both are mainly known from meteorites. Peridot is the gemstone variety of forsterite olivine.
Ad blocker interference detected!
Wikia is a free-to-use site that makes money from advertising. We have a modified experience for viewers using ad blockers

Wikia is not accessible if you've made further modifications. Remove the custom ad blocker rule(s) and the page will load as expected.