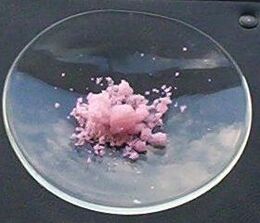 Erbia
or Erbium(III) oxide, a pink solid, is a compound of
erbium
sometimes used as a colouring for glasses and a dopant for optical fibres and optical amplifiers.
Characteristics
Edit
It was partially isolated by Carl Gustaf Mosander in 1843, and first obtained in pure form in 1905 by Georges Urbain and Charles James. Erbium oxide can be also used as a burnable nuclear poison for nuclear fuel.
Ad blocker interference detected!
Wikia is a free-to-use site that makes money from advertising. We have a modified experience for viewers using ad blockers

Wikia is not accessible if you've made further modifications. Remove the custom ad blocker rule(s) and the page will load as expected.