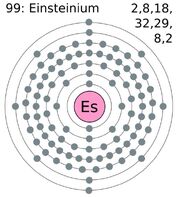 Einsteinium
is a metallic element. On the periodic table, it is represented by the symbol Es and atomic number 99. It is the seventh transuranic element, and an actinide. It was named in honour of Albert Einstein. Isotopes of einsteinium are extremely radioactive, and are considered highly toxic
Characteristics
Edit
Its position on the periodic table indicates that its chemical and physical properties are similar to other metals. Though only small amounts have been found, it has been determined to be silver-colored. According to tracer studies using the isotope 253Es, this element has chemical properties typical of a heavy trivalent, actinide element.

Nineteen radioisotopes of einsteinium have been characterized, with the most stable being 252Es with a half-life of 471.7 days. 254Es have a half-life of 275.7 days, 255Es 39.8 days and 253Es 20.47 days. All of the remaining radioactive isotopes have half-lives that are less than 40 hours, the majority of these having half-lives that are less than 30 minutes. This element also has three meta states, with the most stable being 254mEs (t½ 39.3 hours). The isotopes of einsteinium range in atomic mass from 240.069 u (240Es) to 258.100 u (258Es). The longest-lived isotope is 252Es.
The base value of each unit of ranges between 65 and 150Ð per unit, with up to 2 units being found at any one time.
Presence on Mars: Extremely Rare
Ad blocker interference detected!
Wikia is a free-to-use site that makes money from advertising. We have a modified experience for viewers using ad blockers

Wikia is not accessible if you've made further modifications. Remove the custom ad blocker rule(s) and the page will load as expected.