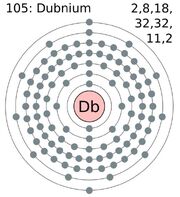 Dubnium
(ˈduːbniəm) is a chemical element in the periodic table that has the symbol
Db
and atomic number 105.
This is a radioactive synthetic element whose most stable isotope is 268Db with a half life of 28 hours. This is the longest lived transactinide isotope and is a reflection of the stability of the Z = 108 and N = 162 closed shells and the effect of odd particles in nuclear decay.
Characteristics
Edit
Chemistry experiments have provided sufficient evidence to confidently place dubnium in group 5 of the periodic table.
The base value of each unit of ranges between 10 and 30Ð per unit, with up to 4 units being found at any one time.
Presence on Mars: Rare
.
Ad blocker interference detected!
Wikia is a free-to-use site that makes money from advertising. We have a modified experience for viewers using ad blockers

Wikia is not accessible if you've made further modifications. Remove the custom ad blocker rule(s) and the page will load as expected.