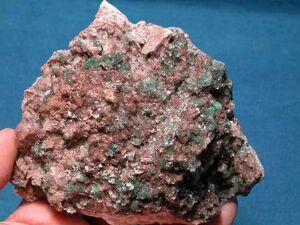 Dolomite is the name of a sedimentary carbonate rock and a mineral, both composed of calcium magnesium carbonate CaMg(CO3)2 found in crystals.
Dolomite rock (also dolostone) is composed predominantly of the mineral dolomite.
Characteristics
Edit
The mineral dolomite crystallizes in the trigonal-rhombohedral system. It forms white, gray to pink, commonly curved crystals, although it is usually massive. It has physical properties similar to those of the mineral calcite, but does not rapidly dissolve or effervesce (fizz) in dilute hydrochloric acid unless it is scratched or in powdered form. The Mohs hardness is 3.5 to 4 and the specific gravity is 2.85. Refractive index values are nω = 1.679 - 1.681 and nε = 1.500. Crystal twinning is common. Small amounts of iron in the structure give the crystals a yellow to brown tint. Manganese substitutes in the structure also up to about three percent MnO. A high Manganese content gives the crystals a rosy pink color. Lead and zinc also substitute in the structure for magnesium.
Ad blocker interference detected!
Wikia is a free-to-use site that makes money from advertising. We have a modified experience for viewers using ad blockers

Wikia is not accessible if you've made further modifications. Remove the custom ad blocker rule(s) and the page will load as expected.