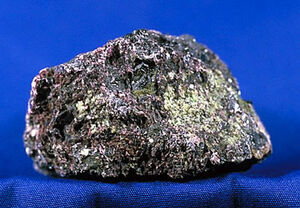 Chromite is an iron chromium oxide: FeCr2O4. It is an oxide mineral belonging to the spinel group. Magnesium can substitute for iron in variable amounts as it forms a solid solution with magnesiochromite (MgCr2O4); substitution of aluminium occurs leading to hercynite.
Characteristics
Edit
Chromite is found in peridotite. It also occurs in layered ultramafic intrusive rocks. In addition, it is found in metamorphic rocks such as some serpentinites. Ore deposits of chromite form as early magmatic differentiates. It is commonly associated with olivine, manganite, serpentine, and corundum.
Chromite is used as a refractory material, because it has a high heat stability

The only ore of chromium is the mineral chromite. The two main products of chromite refining are ferrochromium and metallic chromium, for those products the ore smelter process differs considerably. For the production of ferrochromium the chromite ore (FeCr2O4) is reduced with either aluminium or silicon in a aluminothermic reaction and for the production of pure chromium the iron has to be separated from the chromium in a two step roasting and leaching process.
Ad blocker interference detected!
Wikia is a free-to-use site that makes money from advertising. We have a modified experience for viewers using ad blockers

Wikia is not accessible if you've made further modifications. Remove the custom ad blocker rule(s) and the page will load as expected.