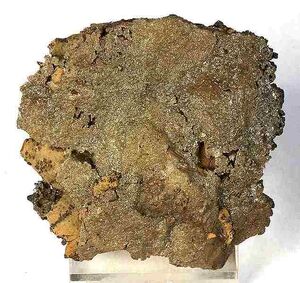 Chlorargyrite is the mineral form of silver chloride (AgCl). Chlorargyrite occurs as a secondary mineral phase in the oxidation of silver mineral deposits. It crystallizes in the isometric - hexoctahedral crystal class. Typically massive to columnar in occurrence it also has been found as colorless to variably yellow cubic crystals.
Characteristics
Edit
The color changes to brown or purple on exposure to light. It is quite soft with a Mohs hardness of 1 to 2 and dense with a specific gravity of 5.55. It is also known as cerargyrite and, when weathered by desert air, as horn silver. Bromian chlorargyrite (or embolite) is also common. Chlorargyrite is water insoluble
Ad blocker interference detected!
Wikia is a free-to-use site that makes money from advertising. We have a modified experience for viewers using ad blockers

Wikia is not accessible if you've made further modifications. Remove the custom ad blocker rule(s) and the page will load as expected.