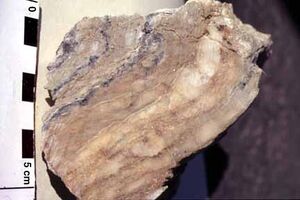 Cerussite (also known as lead carbonate or white lead ore) is a mineral consisting of lead carbonate (PbCO3), and an important ore of lead.
Characteristics
Edit
Cerussite crystallizes in the orthorhombic system and is isomorphous with aragonite. Like aragonite it is very frequently twinned, the compound crystals being pseudo-hexagonal in form. Three crystals are usually twinned together on two faces of the prism, producing six-rayed stellate groups with the individual crystals intercrossing at angles of nearly 60°. Crystals are of frequent occurrence and they usually have very bright and smooth faces. The mineral also occurs in compact granular masses, and sometimes in fibrous forms. The mineral is usually colorless or white, sometimes grey or greenish in tint and varies from transparent to translucent with an adamantine lustre. It is very brittle, and has a conchoidal fracture. It has a Mohs hardness of 3 to 3.75 and a specific gravity of 6.5. A variety containing 7 % of zinc carbonate, replacing lead carbonate.
Ad blocker interference detected!
Wikia is a free-to-use site that makes money from advertising. We have a modified experience for viewers using ad blockers

Wikia is not accessible if you've made further modifications. Remove the custom ad blocker rule(s) and the page will load as expected.