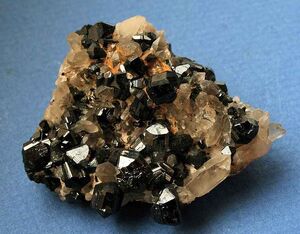 Cassiterite is a tin oxide ore mineral, SnO2. It is generally opaque but is translucent in thin crystals. Its luster and multiple crystal faces produce a desirable gem. Cassiterite has been the chief tin ore throughout ancient history and remains the most important source of tin today.
Characteristics
Edit
Most sources of cassiterite today are found in alluvial or placer deposits containing the resistant weathered grains. The best source of primary cassiterite is the tin mines, where it is found in hydrothermal veins. Cassiterite is a widespread minor constituent of igneous rocks. Hydraulic mining methods are used to concentrate the fine particles of ore.
Ad blocker interference detected!
Wikia is a free-to-use site that makes money from advertising. We have a modified experience for viewers using ad blockers

Wikia is not accessible if you've made further modifications. Remove the custom ad blocker rule(s) and the page will load as expected.