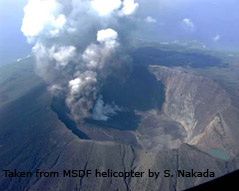 A
caldera
is a depression - usually circular - at the summit of a volcano, formed by the collapse of land following an eruption. The collapse is triggered by the emptying of the magma chamber beneath the volcano, usually as the result of a large volcanic eruption. If enough magma is erupted, the emptied chamber will not be able to support the weight of the volcanic edifice (the mountain) that rests above. Fractures will form around the edge of the chamber, usually in a roughly circular shape. These ring fractures may in fact serve as volcanic vents. As the magma chamber empties, the center of the volcano within the ring fractures begins to collapse. The collapse may occur as the result of a single massive eruption, or it may occur in stages as the result of a series of eruptions. The total area that collapses may be hundreds or thousands of square kilometers.
Ad blocker interference detected!
Wikia is a free-to-use site that makes money from advertising. We have a modified experience for viewers using ad blockers

Wikia is not accessible if you've made further modifications. Remove the custom ad blocker rule(s) and the page will load as expected.