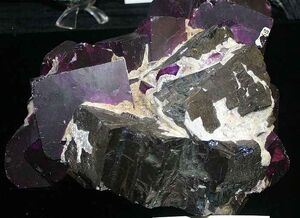 Calcium fluoride is the inorganic compound with the formula CaF2. This ionic compound of calcium and fluorine occurs naturally as the mineral fluorite (also called fluorspar).
Characteristics
Edit
This insoluble solid adopts a cubic structure wherein calcium is coordinated to eight fluoride anions and each F− ion is surrounded by four Ca2+ ions. Although the pure material is colourless, the mineral is often deeply coloured due to the presence of F-centers.
Ad blocker interference detected!
Wikia is a free-to-use site that makes money from advertising. We have a modified experience for viewers using ad blockers

Wikia is not accessible if you've made further modifications. Remove the custom ad blocker rule(s) and the page will load as expected.