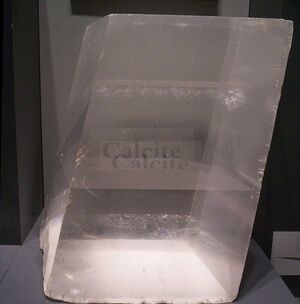 Calcite is a carbonate mineral and the most stable polymorph of calcium carbonate (CaCO3). The other polymorphs are the minerals aragonite and vaterite. Aragonite will change to calcite at 470 °C, and vaterite is even less stable.
Characteristics
Edit
Calcite crystals are trigonal-rhombohedral, though actual calcite rhombohedra are rare as natural crystals. However, they show a remarkable variety of habits including acute to obtuse rhombohedra, tabular forms, prisms, or various scalenohedra. Calcite exhibits several twinning types adding to the variety of observed forms. It may occur as fibrous, granular, lamellar, or compact. Cleavage is usually in three directions parallel to the rhombohedron form. Its fracture is conchoidal, but difficult to obtain. It has a Mohs hardness of 3, a specific gravity of 2.71, and its luster is vitreous in crystallized varieties. Color is white or none, though shades of gray, red, yellow, green, blue, violet, brown, or even black can occur when the mineral is charged with impurities.
Ad blocker interference detected!
Wikia is a free-to-use site that makes money from advertising. We have a modified experience for viewers using ad blockers

Wikia is not accessible if you've made further modifications. Remove the custom ad blocker rule(s) and the page will load as expected.