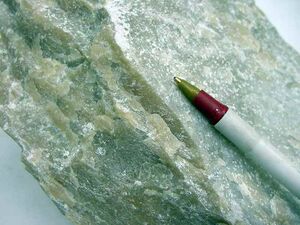 Brucite is the mineral form of magnesium hydroxide, with the chemical formula Mg(OH)2. It is a common alteration product of periclase in marble; a low-temperature hydrothermal vein mineral in metamorphosed limestones and chlorite schists; and formed during serpentinization of dunites.
Characteristics
Edit
Brucite is often found in association with serpentine, calcite, aragonite, dolomite, magnesite, hydromagnesite, artinite, talc, and chrysotile
Ad blocker interference detected!
Wikia is a free-to-use site that makes money from advertising. We have a modified experience for viewers using ad blockers

Wikia is not accessible if you've made further modifications. Remove the custom ad blocker rule(s) and the page will load as expected.