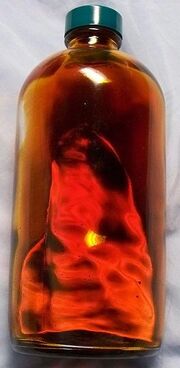 Bromine
is a chemical element with the symbol Br and atomic number 35. A halogen element, it is, along with
mercury
, the only strictly liquid element at room temperature, but
cesium
,
rubidium
,
francium
and
gallium
are quite close. Bromine vapours are corrosive and toxic. The melting point of bromine is −7.2 °C and the boiling point 58.8 °C (138 °F). The pure chemical element has the physical form of a diatomic molecule, Br2. It is a dense, mobile, slightly transparent reddish-brown liquid, that evaporates easily at standard temperature and pressures to give a red vapour (its color resembles nitrogen dioxide) that has a strong disagreeable odour resembling that of
chlorine
.
Characteristics
Edit
Bromine is a halogen, and is less reactive than chlorine and more reactive than iodine. Bromine is slightly soluble in water, and highly soluble in carbon disulfide, aliphatic alcohols (such as methanol), and acetic acid. It bonds easily with many elements and has a strong bleaching action. Certain bromine-related compounds have been evaluated to bioaccumulate in living organisms. Bromine is a powerful oxidizing agent. It reacts vigorously with metals, especially in the presence of water, as well as most organic compounds, especially upon illumination. The diatomic element Br2 does not occur naturally. Instead, bromine exists exclusively as bromide salts in diffuse amounts in crustal rock.
The base value of each unit of ranges between 5 and 15Ð per unit, with up to 3 units being found at any one time.
Presence on Mars: Rare
Ad blocker interference detected!
Wikia is a free-to-use site that makes money from advertising. We have a modified experience for viewers using ad blockers

Wikia is not accessible if you've made further modifications. Remove the custom ad blocker rule(s) and the page will load as expected.