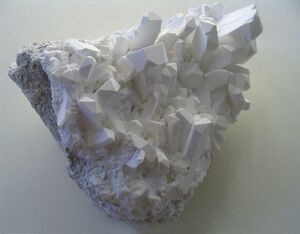 Borax, also known as sodium borate, sodium tetraborate, or disodium tetraborate, is an important boron compound, a mineral, and a salt of boric acid. It is usually a white powder consisting of soft colorless crystals that dissolve easily in water.
Characteristics
Edit
Borax has a wide variety of uses. It is a component of many detergents, cosmetics, and enamel glazes. It is also used to make buffer solutions in biochemistry, as a fire retardant, as an anti-fungal compound for fiberglass, as an insecticide, as a flux in metallurgy, a texturing agent in cooking, and as a precursor for other boron compounds.
The term borax is used for a number of closely related minerals or chemical compounds that differ in their crystal water content, but usually refers to the decahydrate. Commercially sold borax is usually partially dehydrated.
Ad blocker interference detected!
Wikia is a free-to-use site that makes money from advertising. We have a modified experience for viewers using ad blockers

Wikia is not accessible if you've made further modifications. Remove the custom ad blocker rule(s) and the page will load as expected.