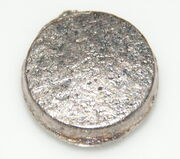 Bismuth is a chemical element that has the symbol Bi and atomic number 83. This trivalent poor metal chemically resembles arsenic and antimony. Bismuth is heavy and brittle; it has a silvery white color with a pink tinge owing to the surface oxide. Bismuth is the most naturally diamagnetic of all metals, and only mercury has a lower thermal conductivity. It is generally considered to be the last naturally occurring stable, non-radioactive element on the periodic table, although it is actually slightly radioactive. Its only non-synthetic isotope Bismuth-209 decays via alpha decay into thallium-205, with an extremely long half-life.

Bismuth compounds are used in cosmetics, medicines, and in medical procedures. As the toxicity of lead has become more apparent in recent years, alloy uses for bismuth metal as a replacement for lead have become an increasing part of bismuth's commercial importance.
Characteristics
Edit
Bismuth often occurs in its native form with an iridescent oxide tarnish showing many colors from yellow to blue. The spiral stair stepped structure of a bismuth crystal is the result of a higher growth rate around the outside edges than on the inside edges. The variations in the thickness of the oxide layer that forms on the surface of the crystal causes different wavelengths of light to interfere upon reflection, thus displaying a rainbow of colors. When combusted with oxygen, bismuth burns with a blue flame and its oxide forms yellow fumes. Its toxicity is much lower than that of its neighbours in the periodic table such as lead, tin, tellurium, antimony, and polonium.

Although ununpentium is theoretically more diamagnetic, no other metal is verified to be more naturally diamagnetic than bismuth. (Superdiamagnetism is a different physical phenomenon.) Of any metal, it has the second lowest thermal conductivity (after mercury) and the highest Hall coefficient. It has a high electrical resistance. When deposited in sufficiently thin layers on a substrate, bismuth is a semiconductor, rather than a poor metal.

Elemental bismuth is one of very few substances of which the liquid phase is denser than its solid phase (water being the best-known example). Bismuth expands 3.32% on solidification; therefore, it was long an important component of low-melting typesetting alloys, where it compensated for the contraction of the other alloying components.

Though virtually unseen in nature, high-purity bismuth can form distinctive hopper crystals. These colorful laboratory creations are typically sold to collectors. Bismuth is relatively non-toxic and has a low melting point just above 271 °C.
The base value of each unit of ranges between 5 and 15Ð per unit, with up to 4 units being found at any one time.
Presence on Mars: Rare
Ad blocker interference detected!
Wikia is a free-to-use site that makes money from advertising. We have a modified experience for viewers using ad blockers

Wikia is not accessible if you've made further modifications. Remove the custom ad blocker rule(s) and the page will load as expected.