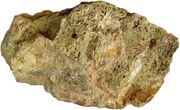 Bastnäsite (or bastnaesite) is one of a family of three carbonate-fluoride minerals, which includes bastnäsite-(Ce) with a formula of (Ce, La)CO3F, bastnäsite-(La) with a formula of (La, Ce)CO3F, and bastnäsite-(Y) with a formula of (Y, Ce)CO3F.
Characteristics
Edit
Most bastnäsite is bastnäsite-(Ce), and cerium is by far the most common of the rare earths in this class of minerals. Bastnäsite and the phosphate mineral monazite are the two largest sources of cerium and other rare earth elements.
Bastnäsite was first described in 1841 from and named for the Bastnäs mine near Riddarhyttan, Västermanland, Sweden. . Bastnäsite occurs in alkali granite and syenite and in associated pegmatites. It also occurs in carbonatites and in associated fenites and other metasomatites.
Ad blocker interference detected!
Wikia is a free-to-use site that makes money from advertising. We have a modified experience for viewers using ad blockers

Wikia is not accessible if you've made further modifications. Remove the custom ad blocker rule(s) and the page will load as expected.