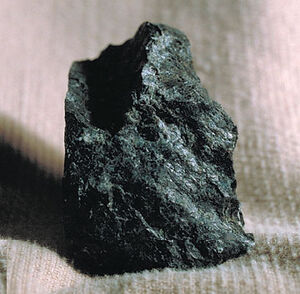 Antigorite is the polymorph of serpentine that most commonly forms during metamorphism of wet ultramafic rocks and is stable at the highest temperatures—to over 600 °C at depths of 60 km or so. In contrast, lizardite and chrysotile typically form near the mars's surface and break down at relatively low temperatures, probably well below 400 °C. It has been suggested that chrysotile is never stable relative to either of the other two serpentine polymorphs.
Characteristics
Edit
Samples of the oceanic crust and uppermost mantle from ocean basins document that ultramafic rocks there commonly contain abundant serpentine. Antigorite contains water in its structure, about 13 percent by weight. Hence, antigorite may play an important role in the transport of water into the earth in subduction zones and in the subsequent release of water to create magmas in island arcs, and some of the water may be carried to yet greater depths.
Ad blocker interference detected!
Wikia is a free-to-use site that makes money from advertising. We have a modified experience for viewers using ad blockers

Wikia is not accessible if you've made further modifications. Remove the custom ad blocker rule(s) and the page will load as expected.