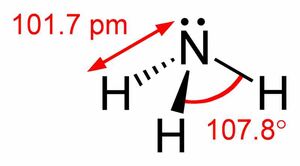 Ammonia is a compound of nitrogen and hydrogen with the formula NH3. It is a colourless gas with a characteristic pungent odour.
Ammonia contributes significantly to the nutritional needs of terrestrial organisms by serving as a precursor to food and fertilizers. Ammonia, either directly or indirectly, is also a building block for the synthesis of many pharmaceuticals. Although in wide use, ammonia is both caustic and hazardous.
Characteristics
Edit
Ammonia, as used commercially, is often called anhydrous ammonia. This term emphasizes the absence of water in the material. Because NH3 boils at −33.34 °C, the liquid must be stored under high pressure or at low temperature
Ad blocker interference detected!
Wikia is a free-to-use site that makes money from advertising. We have a modified experience for viewers using ad blockers

Wikia is not accessible if you've made further modifications. Remove the custom ad blocker rule(s) and the page will load as expected.