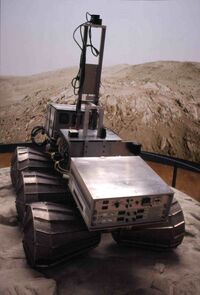 The Areomineral Recovery & Exploration Vehicle or AREV is the multi-purpose vehicle that each prospector on Mars is issued by Central Trading when their application for prospector status is approved. This relatively spacious vehicle houses numerous sensors and tools, useful in both environmental science ((Mining)) and tactical situations ((scouting)). Chief among these tools are the multi-phase extractor that allows for automated sifting of the slurry that is churned out during normal mining operations, and scout 'bots that are used to scout out the defenses of Settlements and Homesteads.
Ad blocker interference detected!
Wikia is a free-to-use site that makes money from advertising. We have a modified experience for viewers using ad blockers

Wikia is not accessible if you've made further modifications. Remove the custom ad blocker rule(s) and the page will load as expected.